Weapon - Paper bomb kunai and Sticky nade
01-31-2014, 11:41 PM
DragonBolt
BAD!


Posts: 524
Joined: Nov 2013
Reputation: 35
Warning Level: 0%
Weapon - Paper bomb kunai and Sticky nade
As some of you may know (most won't, perhaps) I've gone a little Naruto-nuts.
Anyway, I came up with a weapon idea that could fit in BEO2.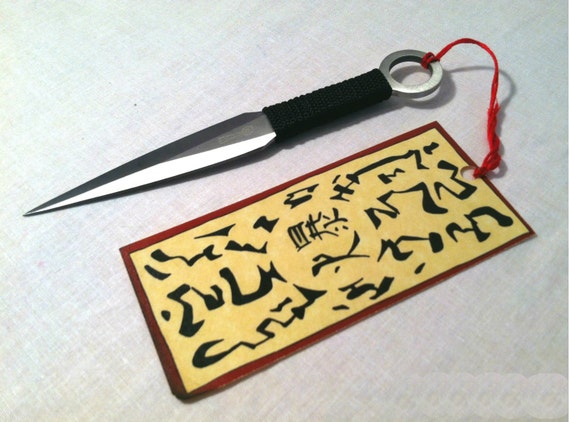 That's what a paper bomb kunai looks like (kinda).
I'll explain.
It's a throwing knife thingy with a bomb attached to it.
How it could work in game:
Throw the knife at an enemy (or, sure, if you're a little nuts, throw it at a friend.) The initial hit could do, say, 20. Then, once it is the target player's turn, they get to move around and shoot as usual, and then, BANG! The paper bomb explodes, dealing another 20, in a grenade style radius.
If the enemy player is smart, when it is their turn, they'll move right up to you and attack, so when it explodes, you get hit too
Anyway, I feel it is a great concept, but Naruto isn't exactly world known, so people may not get it. So it could be designed as a knife with a tiny bomb attached to it on a string.
Sticky nade: Rather similar to the previous idea. You chuck a nade somewhere (preferably an enemy) and it sticks to them on direct impact. When it reaches their turn, and the turn ends, BOOM.
A solid 30 damage, maybe even 40, considering the risk and difficulty to use it. After all, It doesn't bounce, so if it hits terrain, it fails. And, of course, the enemy COULD just walk up to you, and you both go up in flames
If either of the two weapons hit terrain, they FAIL.
You like
? Let me know in the comments.
---
02-01-2014, 12:13 AM
Z-Gamer
BAD!


Posts: 1,044
Joined: Nov 2013
Reputation: 58
Warning Level: 0%
RE: Weapon - Paper bomb kunai and Sticky nade
Well, I dont like Naruto, but Its cool
---
02-01-2014, 11:00 AM
Birogrolph
Fried


Posts: 413
Joined: Nov 2013
Reputation: 13
Warning Level: 0%
RE: Weapon - Paper bomb kunai and Sticky nade
Interesting ideas; I can picture weapons like this in the game
User(s) browsing this thread: 1 Guest(s)